Hi
In May, we once again took part in
RO-KA-TECH
, the international trade fair for pipe, channel, and industrial services. This has been a permanent fixture on our trade show schedule for years and continually provides ideas for further innovations. But the past two months weren't just dedicated to taking part in the trade fair – we also introduced some extra products and features, which we will present to you today in this newsletter.
Enjoy your reading!
1. Latest addition to the turbopuls family!
Our Turbopuls family is part of the
Rotopuls vibration nozzles
line and is based on an eccentrically supported rotor, which produces very fast vibrations and pulsating jets. This product family stands out with its low water consumption, ease of use, and a long service life. If you can't remove hard deposits such as limescale with a simple rotating nozzle, then you absolutely need to give it a try with the vibration nozzles.
The enz®
Rotopuls 34
is based on an eccentrically supported rotor, which produces very fast vibrations and pulsating jets. The pulsations resulting from this can break apart deposits up to 10 cm/4 inch thick in plastic, steel, and concrete pipes. The Rotopuls 34 is not much bigger than the Rotopuls 30, but can be operated with a 1/2" or 3/8" hose. This makes it the right product when maneuverability through pipe bends and having a 1/2" hose size are important. If size makes no difference, then we recommend the Rotopuls 40 due to its heavier weight. As always, you must take special care and work very carefully in PVC and earthenware pipes.




1.2. enz® Turbopuls 80
The
Turbopuls 80
, with its large head (
410.080A-G
,
410.080B-G
), has even more power from now on thanks to its 100 mm/ 4 inch head. This produces high vibrations and thus works aggressively against hard deposits in plastic, steel, and concrete pipes. This means it has a higher removal rate as well. We are also continuing to make the Turbopuls 80 with the normal head (80 mm/3 inch). It is recommended that you use the 1" version of the nozzle combined with the 3/4" hose (
95.BF100BM075
), otherwise it can't produce its full power. If you would like to work with more than 200 liters/52 g, then it is advisable to discharge the additional water using a pull part (
30.100Z
).
1
.3. enz® Turbopuls Twin Kit (for Turbopuls 120)
If you have sufficient room (at least 200 mm/7 inch), then using a Turbopuls 120 (120 mm/5 inch) can pay off thanks to the additional weight. Have you heard about our Turbopuls Twin Kit (
410.1208
,
410.1209
) yet? With the Turbopuls Twin Kit, you can operate two Turbopuls 120s side-by-side. By doubling the weight, you double the impact, and with it, the removal rate. What's important is that both nozzles run together, each pointing outwards. The Turbopuls Twin Kit is used in large channels from Ø400 mm/15 inch or more. If you still can't reach the deposits that need to be removed, then it's worth giving it a try with the pointed center (
00410.12010
).



2. Maintenance/Repair
As with all enz® nozzles, the nozzle inserts must be inspected at regular intervals. If you work with recycled water, inspect the nozzle inserts after each use. Ensure the nozzle inserts and the inside thread of the tool are clean, dry, and oil- and fat-free. You can spray the nozzle holes and connecting thread with a
rust remover spray
to help protect the nozzle. If the Turbopuls has insufficient vibration performance, the drive from the turbine wheel is probably clogged. Cleaning will ensure efficient water flow and thus optimal performance.




3. Success story
With reference to our new products and features, we can show you what has been removed using one of our vibration nozzles. As you can see in the picture, huge amounts of limescale were flushed out of the pipe. Our Turbopuls Vibration Nozzles are well-suited for removing medium-hard to very hard deposits. Click
here
for a complete overview of our vibration nozzles. In addition, we are always posting helpful videos for you on the enz
YouTube
channel.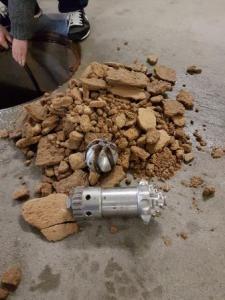 4. Trade shows
4.1. A look back
4.1.1. RO-KA-TECH 2019, Kassel (Germany)
The international trade fair for pipe, channel, and industrial services was held from May 8th through 10th, 2019, in Kassel (Germany). Products, services, and innovations were presented in an exhibition space of 26,000 square meters (almost 300,000 square feet) over the course of three days. We were also able to welcome quite a lot of visitors to our stand and show them new products from enz®.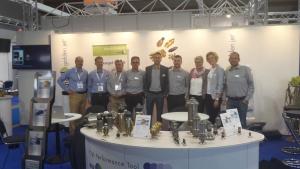 4.2. enz® academy
Would you like customized training? Then make an appointment with us today! At the
enz® academy
, we offer various training opportunities for you and your employees, which we can tailor to your personal requests and needs.
Contact our training staff today and you will soon be well-trained for success:
training@enz.com
/ Phone +41 41 676 77 66

We hope that you continue to enjoy using our
enz®
products safely and successfully. Our customer service department is available for your questions Monday to Friday from 8 a.m. to 12 p.m. and 1:30 p.m. to 5 p.m. (Friday until 4 p.m.).