In our last newsletter we let you know about our new enz standard nozzles. In today's newsletter we'd like to present our latest items from the high pressure product line. Another important point in this newsletter is our participation at three trade shows over the next two months: We are taking part in POLLUTEC in Lyon (France), ECOMONDO in Rimini (Italy) and WJTA-IMCS in New Orleans, LA (USA).

1. New: enz® ultra high pressure nozzles
1.1. Ultra high pressure solution for large profiles:
1.1.1. Bulldog® 505.060:
We offer the Bulldog in two variants: one for large profiles and another for small diameters. The Bulldog for large profiles is operated with three different heads for three different water volumes. This Bulldog head can be used with extensions for an excellent cleaning performance, particularly in large profiles.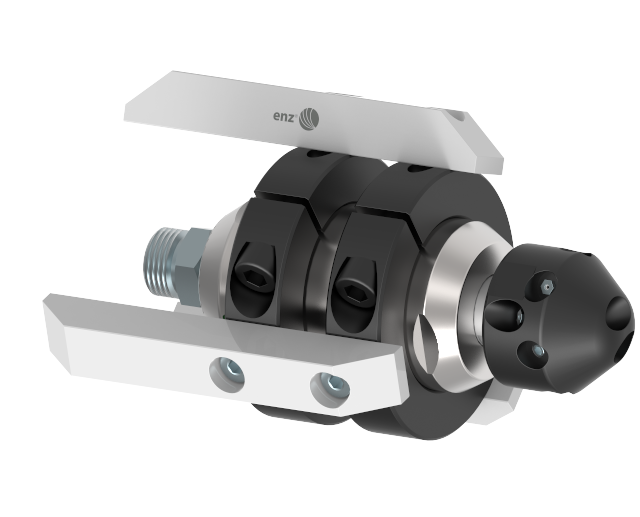 1.1.2. Adjustable skid for Bulldog 60 UHP (500.060300x)
and Bulldogs in sewer cleaning (100.06030)
We have designed a special skid (>350 bar / >5,076 psi) for large profiles for the Bulldog 60 UHP so that the nozzle can be centered in the pipe. The water stream from the Bulldog 60 UHP with skid hits the pipe wall directly. An optional thrust piece can be attached to the rear side of the skid. The Bulldog 60 UHP with adjustable skid is excellently suited for industrial cleaning and for steel pipes. The application range is between 300 and 1,000 mm (12 to 40 inches).
There is also a skid for <350 bar / 5,076 psi. It can be used in sewer cleaning as well.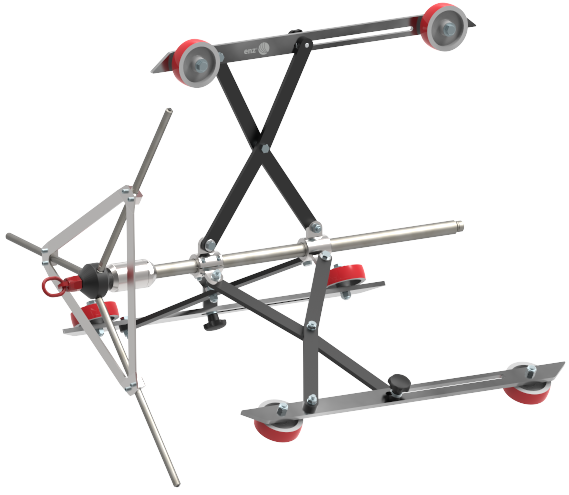 All models are available with connecting threads M24 x 1.5 or ½ NPT. The order numbers for models with NPT threads are 501.060N, 504.060N and 506.060N.

1.2. Ultra high pressure solution for small and medium profiles:
1.2.1. A single nozzle – and three heads
Model 501.060: This nozzle has an RGS standard head with six 80 rotation inserts. It has no thrust or front jet inserts and runs at 40 l/min / 10 GPM. The maximum pressure is 1,000 bar / 14,500 psi. This head is well-suited for cleaning and polishing pipe walls.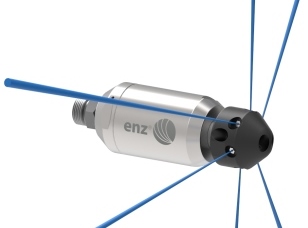 Model 504.060: This model replaces the old 500.060 model. The nozzle has a KBR head with three 80 rotation inserts and additional thrust. Like the 501.060 model, this nozzle runs with 40 l/min / 10 GPM and can be used at up to 1,000 bar / 14,500 psi. This is our universal head.
Model 506.060: The so-called "Unplugger" model has a cross-jet head. The two front jets have different jet angles and intersect in the middle. The three rotation inserts, with 80 jet angle, together with the two front jets provide for full-circle cleaning. In addition, the nozzle has thrust. This configuration is particularly recommended if a pipe is fully clogged or partially clogged.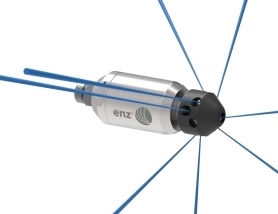 All models are available with connecting threads M24 x 1.5 or ½ NPT. The order numbers for models with NPT threads are 501.060N, 504.060N and 506.060N.
There is also a skid for smaller diameters that is recommended for 140 to 300 mm (5.5 to 12 inches).

1.3. Ultra high pressure solution for surface cleaning:
1.3.1. Surface cleaner SC1500
The newly-developed surface cleaner SC1500 for up to 1,500 bar (22,000 psi) has two or four jets. It is excellently suited for cleaning any surfaces, removing paint and coatings, scraping and stripping surfaces regardless of type. The surface cleaner SC1500 offers the following advantages: a constant rotational speed, very little leakage and a powerful cleaning jet.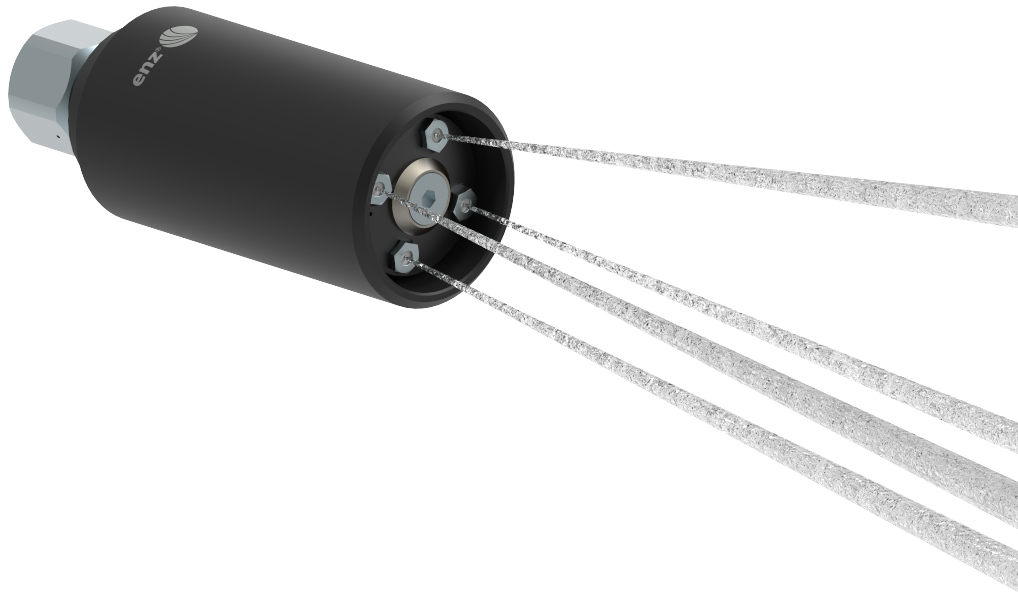 1.3.2. MJ4ST nozzle for surface cleaning
The MJ4ST nozzle for surface cleaners combines the power of a fixed nozzle with the type of cleaning over a large area that is achieved with a flat-jet nozzle. The MJ4ST nozzle has a temperature resistance of up to 150 °C / 300 F. It is easy to maintain, has a very long service life and is very powerful when it comes to cleaning, thanks to the Monroe Jet. The MJ4ST nozzle can remove graffiti, eliminate weeds and be used for preparation in restoration work or for surface cleaning.


1.3.3. Ultra high pressure nozzles for small pipes
Along with our cross jet nozzles, Enz also has simple pipe cleaning nozzles in the product line.
The smallest ultra high pressure nozzle has a diameter of 11 mm (0.43 inches). The largest ultra high pressure nozzle has a diameter of 50 mm (1.97 inches). The ultra high pressure nozzles for small pipes are available in a small design (05.0XX). With this design, the nozzles can be guided around bends, in heat exchangers, without difficulties. The ultra high pressure nozzles for small pipes are also offered in a long design (05.0XXLA).


2. Maintenance/Repair MJ4ST nozzle
Clean the MJ4ST nozzle with water prior to disassembly. Unscrew the nozzle body together with the front cover from the intake cover. Then remove the old rotor and the seat with our special assembly tool (Art. No.10269). Now place the greased seat on the assembly tool and then mount it in the nozzle body. Always make sure that the seat is securely in its place.
Before you reinstall the complete MJ4ST nozzle, clean and check the thread and the O-ring for damage. Lubricate the thread and the O-ring with a grease for stainless steel. Place the new rotor in the unit made up of the nozzle body and the front cover and hold the lance down. Screw the unit by hand onto the intake cover. It is important that the rotor does not become jammed between the seat and the drive pipe. Attach the unit loosely with a screwdriver. However, make sure that you don't tighten it too securely.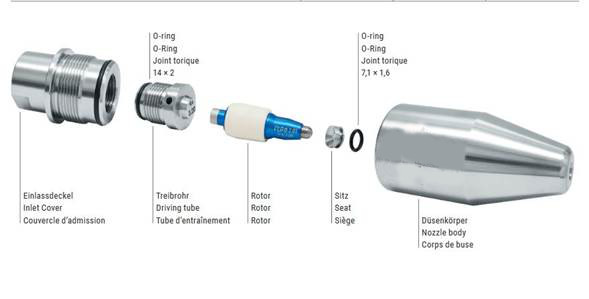 3. Success story
A customer from Warsaw, Poland used our Bulldog with adjustable skid to clean a pipe with a diameter of 400 mm / 15". Find out what happened here: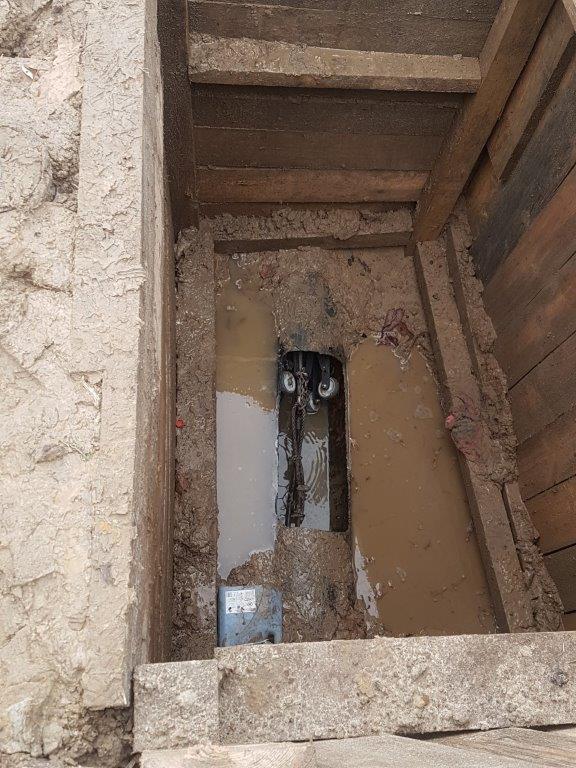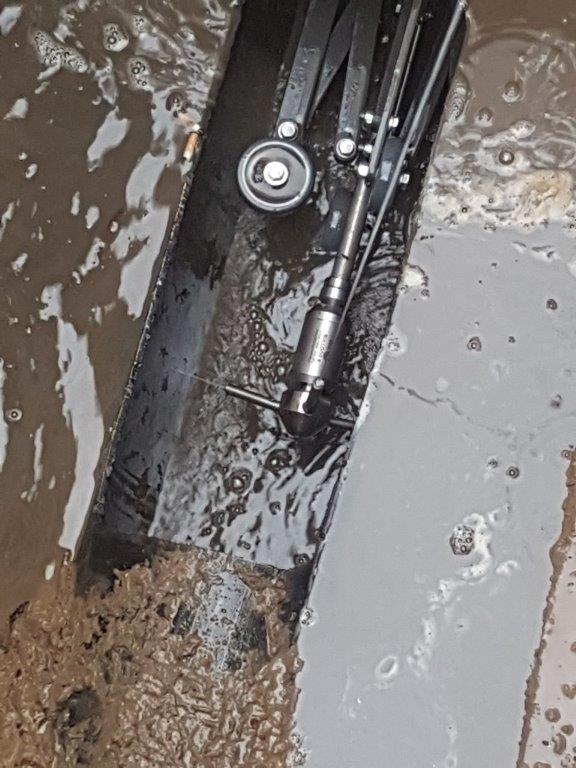 The pipe had huge deposits on the walls. To ensure tidy and efficient cleaning, our customer decided to use our Bulldog with adjustable cage. Using this universally-applicable tool, our customer was able to clean the pipe within a short amount of time.
The nozzles in the enz Bulldog family require barely any maintenance, since they are operated with magnetic brakes instead of oil brakes. The magnetic brakes ensure a long service life and therefore a very good investment for the customer. In addition, the Bulldog nozzles have exceedingly strong cleaning performance. Alongside the optimal speed, the ceramic inserts contribute to the excellent flow properties of these nozzles.

4. Trade shows
4.1. WJTA-IMCA Expo in New Orleans, USA
The WJTA-IMCA Expo will be held in New Orleans, LA (USA) on November 1st and 2nd, 2018. This trade show is the largest of its kind for high-pressure water jet tools, systems and their associated services. More than 1,000 international specialists visit the two-day event each year. We will have an exhibit this year as well. Visit us at booth 1017 in the Ernest N. Morial Convention Center in New Orleans. We look forward to meeting you!

4.2. Ecomondo in Rimini, Italy
Ecomondo is planned for November 6th through 9th, 2018 in Rimini, Italy. This is the leading trade fair for the green economy and the recycling industry in the Euro-Mediterranean region. This international event, with an innovative format, unites all areas of the recycling industry on a single platform. This includes everything from material and energy recycling to sustainable development. Stop by and see us in Rimini – you'll find us at booth 191/A7.

4.3. Pollutec in Lyon, France
An additional date in the trade fair calendar is Pollutec, from the 27th to the 30th of November, 2018 in Lyon (France). This is already the 27th year this trade fair has been held. It features international exhibitors from the ecological equipment, technologies and services field. We will have our own booth on site again this year. Among other things, we will be presenting all the new product features we were able to introduce you to this year. For example, our cutting ball CB90 with carbide coating, the propeller nozzle or the Rotopuls 34. In addition to these and other new product features, our booth will also have a selection from our proven assortment.
Would you like to visit us? Please contact us today. We will be happy to send you a trade show invitation including an invitation code, which will provide you easy and free admission. You can find us in building 1, aisle J, booth 30. We are looking forward to your visit!

We hope that you continue to enjoy using our products safely and successfully.
Our customer service department is available for your questions Monday through Friday from 8 a.m. to 12 p.m. and 1:30 p.m. to 5 p.m. (Friday until 4 p.m.).