In January, we told you about our new
UC nozzles
. This product family is noted for its numerous applications and high wear resistance at up to 1500 bar / 22,000 psi. In today's newsletter, we will tell you about another new item that was developed especially for targeted cleaning of pipe inlets, the enz® guiding nozzles.
Our
guiding nozzles
were designed specifically for targeted cleaning of pipe inlets. They are used for searching for connections in ground lines and can thus prevent the need for cleaning via a house connection. The cleaning is done from the main channel to the house connection line.
The guiding nozzles consist of two nozzles: Either from a vibration nozzle or an HRH nozzle and a channel rinse nozzle at the front of a hydraulic hose. The connection is entered by the channel rinse nozzle. The channel rinse nozzle is used to easily find branches using the asymmetrical bore holes. Hard deposits in trickle lines, PE, steel and concrete pipes can be removed using the vibration nozzle.
There are currently two different types of guiding nozzles available. The primary difference is in the vibration. The 17.044AE-001 with vibration is based on a rotopuls vibration nozzle. The 17.040A-001 without vibration is based on a semi-radial rotating nozzle. Both guiding nozzles clean pipes with diameters from 70-150 mm using a working pressure up to 350 bar / 5070 psi.

17.044AE-001 with vibration

17.040A-001 without vibration
With the guiding nozzle, you have the option of dismantling the hose with the header nozzle and replacing it with a center peak. When you buy a guiding nozzle, you will receive the center peak along with other accessories.
Modified guiding nozzle with center peak
Are you interested in a guiding nozzle and already have a new rotopuls vibration nozzle 04.044AE? Great! Then expand your tool variety with our guiding set 95.001 and you will be all set to modify your nozzle into a guiding nozzle. Our guiding set 95.001 includes the hose with the header nozzle, a center peak as well as additional accessories for special applications.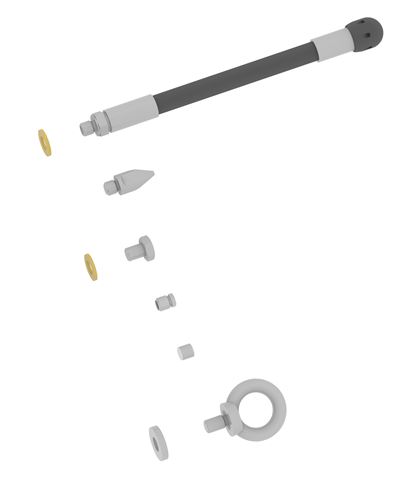 Steering set 95.001
Maintenance/Repair
As with all rotating nozzles, the nozzle inserts for the guiding nozzles must be inspected regularly. The wear and tear on the nozzle depends on the degree of contamination of the used water. Use a preservative spray to prevent corrosion build-up and regularly wash the guiding nozzle with clean water. This extends the service life.
Expansion of the Rotodrill™ nozzle selection: Reverse Rotodrill™ 36.025REV
Our Rotodrill™ nozzles are known for outstanding cutting power and their 3-4x better cleaning performance than standard nozzles with front jets. The fixed nozzle is equipped with an angled, rotating front jet, which cuts at a pointed angle to the pipe wall. Advancement is ensured by the back jet nozzles, which allows clogged pipes to be cleaned very efficiently. Even frozen pipes can be opened easily with the sharp front jet.
The Reverse Rotodrill™ 36.025REV adds yet another nozzle to the enz® product line, which can be used in all types of pipes. This nozzle is unique in that it works against the back with the cutting jet, thus in reverse of customary Rotodrill™ nozzles. It has much lower water consumption as a result.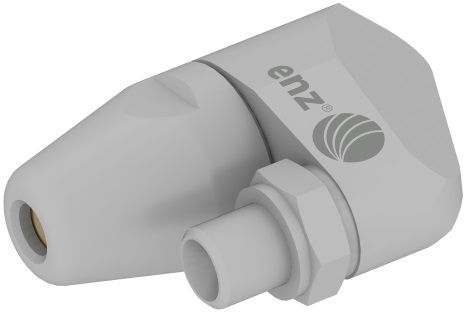 Reverse Rotodrill™ 36.025REV
The Reverse Rotodrill™ should be used in dirty pipes from Ø 75 up to 150 mm and at up to 350 bar max. It is maintenance free and is suitable for use with recycled water.
Click here
to see the entire line-up of Rotodrill™ nozzles.
Trade shows
From February 17 – 20, 2016, the
Water & Wastewater Equipment, Treatment & Transport Show
was held in Indianapolis (USA). Our American colleagues were on hand at our booth discussing the new features and modifications of our products to countless visitors over four days. Participation in this trade show was very successful again this year.
The next opportunity to meet us at an international trade show is coming right up: The
IFAT
will be held in Munich (Germany) from May 30 - June 3, 2016. The IFAT is the world's leading trade fair for water, sewage, waste and raw materials management. Check our next newsletter for more information on our trade show participation at the IFAT.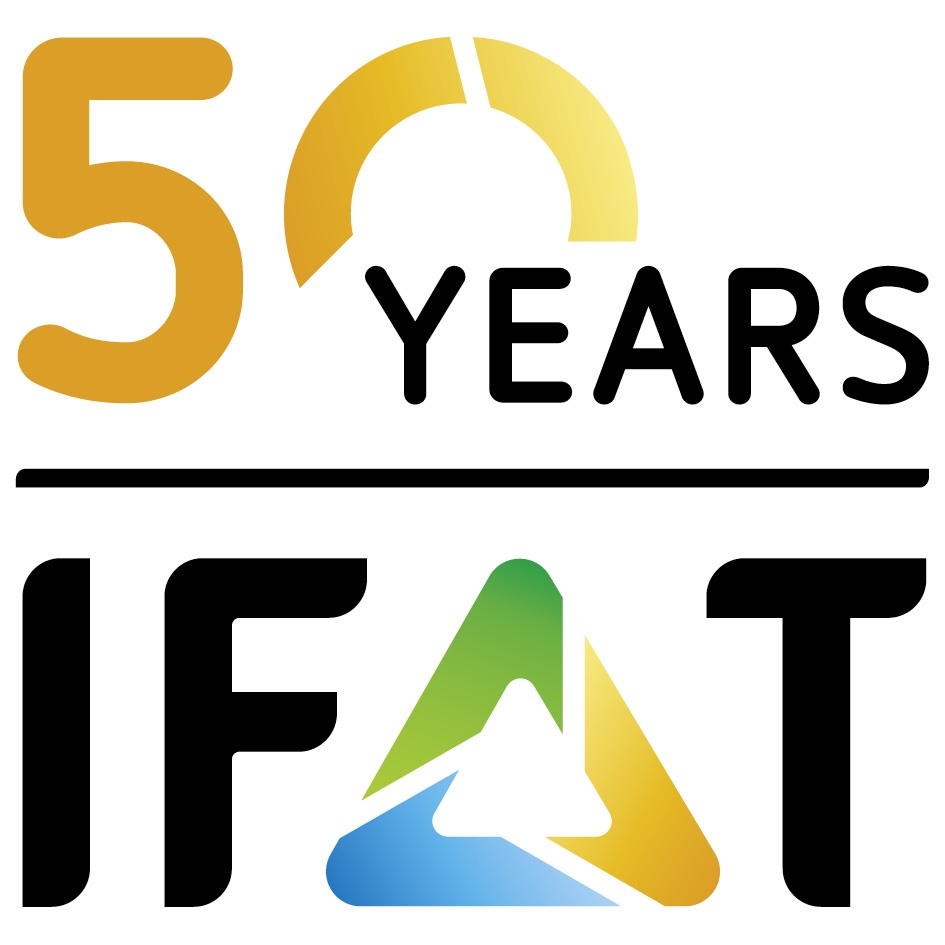 Nozzle Course 2016 in Giswil
Spring of each year brings the beloved and informative nozzle course offered by enz®. For an entire day, training participants receive a look into the world of enz® nozzles. In theory and in practice, this course provides important knowledge and helpful tips on efficient and ecological use of our products. The course begins with a theory portion, in which the selection of the correct nozzle or the use of the nozzle calculation program JetCalc are explained, for example. Pressure loss is a recurring subject that our customers bring up. In the course, participants learn how they can control pressure loss and thus save water and time.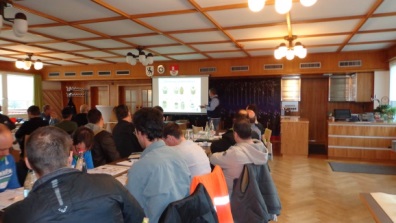 Theory during nozzle course
After the theory portion, the individual product groups from enz® are presented at different sites. Thus, the participant obtains an overview of the enz® product spectrum and becomes familiar with their individual areas of application. The training participants can pose questions here that crop up during their regular work.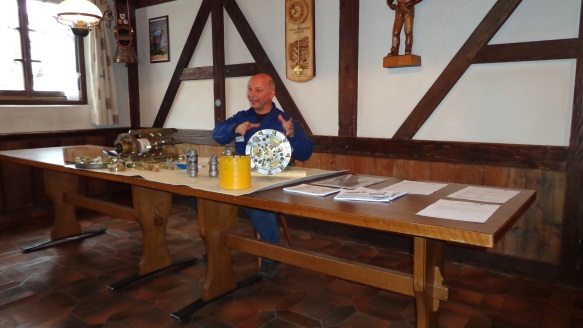 Cutter site
As indicated before, pressure loss is addressed during the theory portion. In the afternoon, participants can see how pressure (bar) and flow (l/min) behave in use in a running nozzle on the company's own test stand on the enz® corporate grounds. Our flow meter provides important figures for this. It measures the effective pressure on the rinse hose end, the flow of the channel rinse vehicle and the pressure loss on the channel rinse vehicle. The different nozzles can also be inspected using the flow meter. If you would like to test your enz® nozzles with our flow meter, please contact our customer service department: Tel. +41 41 676 77 66. We are looking forward to hearing from you.
At the end of the nozzle course, participants can try their hand in our assembly facilities. For example, they learn the proper use of the nozzle inserts, how to take apart a Rotodrill, how to change the drive of a Turbopuls nozzle or the practical use of the nozzle calculation program JetCalc.
We are already looking forward to the next nozzle course is Spring 2017. We offer our nozzle course on five days in Giswil, two days in Lausanne and one day in Melano. Invitations to the course go out at the end of the year. Register as quickly as possible because the number of participants per course is limited!
enz® academy
Would you like individual training? No problem. At
enz® academy
, we offer various training opportunities for you and your employees, which can be tailored to your personal requests and needs. Contact our training staff today and you will soon be successfully trained from every day work. Conact info: Tel. +41 41 676 77 66,
training@enz.com
.

We would like to wish you safe and successful work with our products. Our customer service department is available for your questions Monday - Friday from 8 a.m. - 12 p.m. and 1:30 p.m. - 5 p.m. (Friday until 4 p.m.).